Overview
Grand Lisbon Segway Tour
Our epic Grand Segway Tour that covers most of the city center and old town, the true experience of Lisbon that no one can miss out!
Starting from Alfama near the cruise port, we provide a complete training on how to drive the Segway through the streets of the city so we can safely explore the hidden gems of Lisbon. Our first stop will be the along the river in the Commerce Square, one of the largest squares in Europe, very famous for the history related with the discoveries and exploration from the 1500's until recently.
Moving on we get to see the City Hall, the executive building of the council, displayed on the Municipal Square, already giving you the hint that we start to climb the hills. Effectively, we glide up to Largo do Carmo, where we can find the remains of Carmo Convent, left from the major earthquake on 1775, and also the main stage of the Carnation Revolution back in 1974 – get the insights of these amazing stories while chilling on this beautiful and quaint little square.
Afterwards, we start to climb down to one of the most amazing avenues of Lisbon, Ave. de Liberdade – the place where we find the most extravagant and luxurious stores from all around the world, and beautiful buildings with the most exquisite architecture. We get to rest on top of the hill, after we explored the Edward VII Park, with its privileged views over the city, beautiful installations, and epic monuments – the "highest" point on our Grand Tour, all the way up in the heart of the city.
On our way downhill we stop at one of the main squares in Lisbon, Rossio Plaza – one of the best examples of the recovery of the major earthquake, and intelligent city planing – take your time to enjoy the intricate portuguese calçada: the black and white limestones with beautiful patterns that cover the sidewalks of this ancient city.
We still have the old town to explore, and here we have a lot – to climb! We get to discover the most beautiful miradouros, where we get to see the most amazing panoramic views over the city – your effort will be worthwhile!
From here to Alfama is a quick jolt, where we get deeper in the cosy streets and get acquainted with the most typical sites and people of the old town of Lisbon.
Come with us on this Segway journey and expect to see a lot in this Grand Lisbon Segway Tour on the city center and old town, where your guide will take you to see the most amazing spots throughout.
Included:
Live guiding
Safety training (extra time!)
Photo service
Headgears (all the sizes)
Raincoats if needed
Unlimited water, coffee and tea in the office
Excluded:
Gratuities (optional)
Food and drinks during the tour (optional)
Great overview of the whole Lisbon City
Discover all the best views around
Go up to the Castle
Get maximum of Lisbon during one tour!
On Grand Lisbon Segway Tour you will see:
Commerce Square
Arch of Augusta Street
City Hall
Carmo Convent
Eiffel Lift
Chiado
Restauradores
Ave. Liberdade
Park Edward VII
Rossio main square
St. Dominic church
Martin Moniz square
Mouraria streets
Mirador Our Lady of the Hill
Graça Square
Alfama street
National Pantheon
St. Vincent Church
and much much more…
Map of this tour route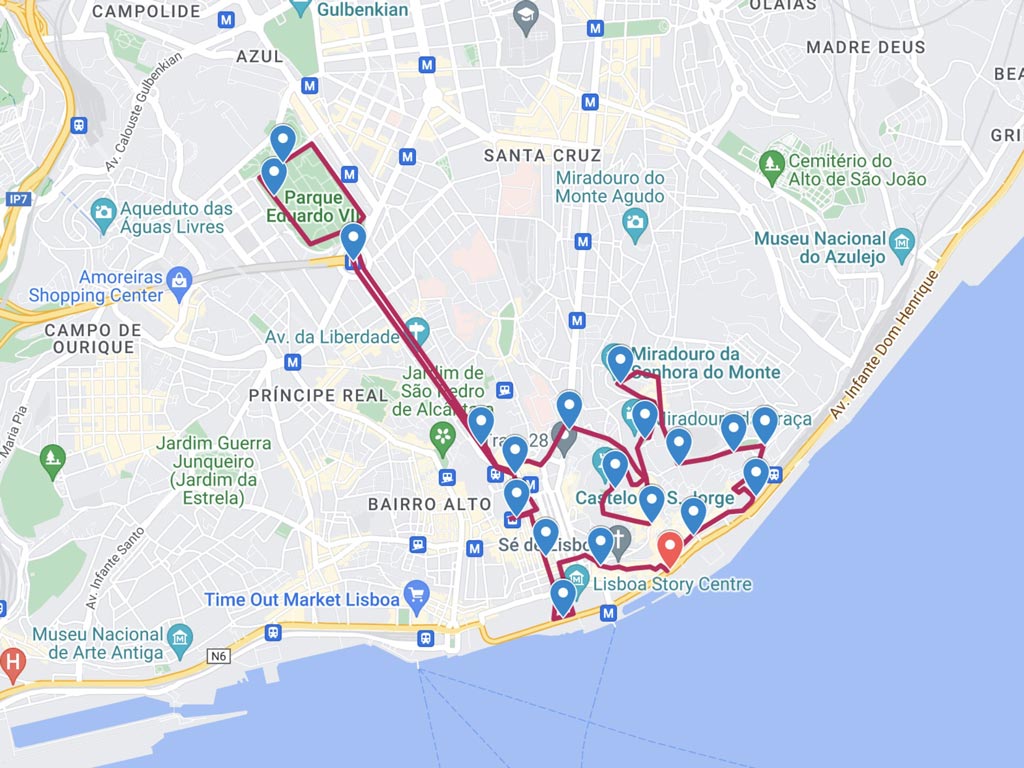 To load map, click on the image.
A driver's license is not required
Helmets are mandatory and different helmet sizes are offered
The minimum rider's weight is 30 kg, maximum weight is 150 kg; maximal speed is 18 km/h
The is no minimal age limit to drive a segway
Maximum age to participate in a tour – 69 years
Pregnant women and people with epilepsy are not allowed to ride a Segway
In case of rain, proper raincoats are provided free of charge and in cases of extreme weather your tour may be rescheduled or cancelled with a full refund for your safety
No deposit is required, you can pay in our office on the day of the tour. We trust our guests and hope that you will come on time. If you change your mind, let us know at least 48 hours in advance. This way you do not deprive others of the opportunity to take advantage of the available date.
If you have prepaid your tour, you must cancel at least 48 hours prior to the start of the tour to receive a full refund. For groups of 8 or more, cancellation policies are subject to change and will always be stated in the proforma invoice.
Pictures made on this route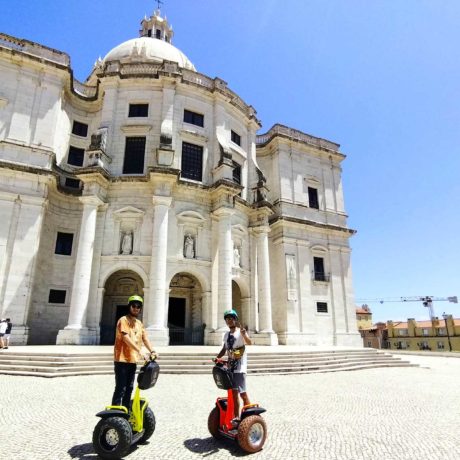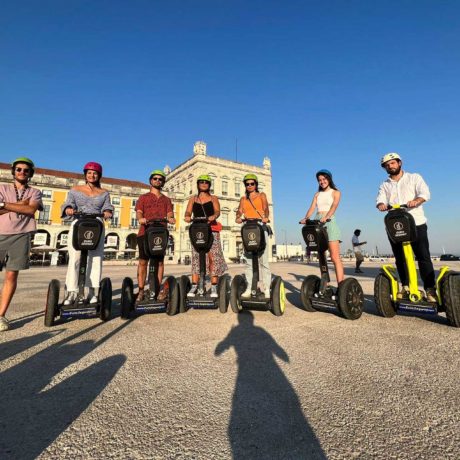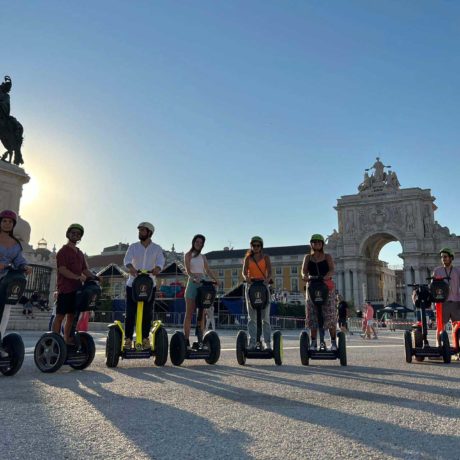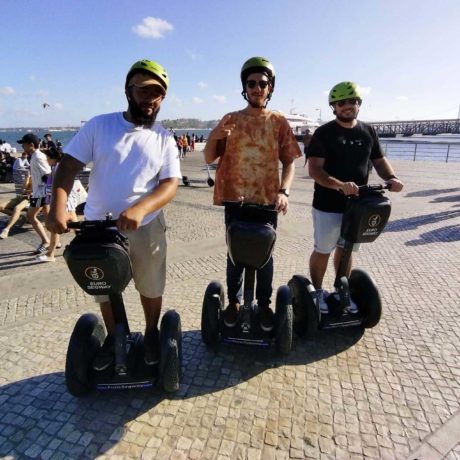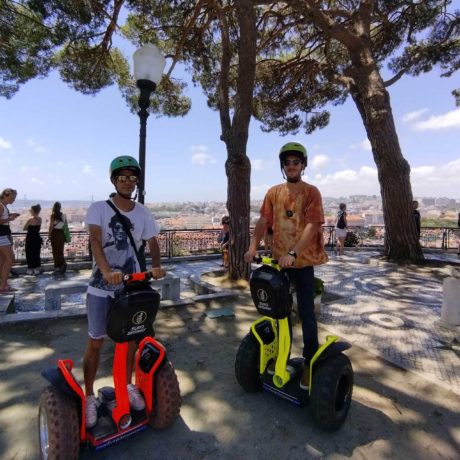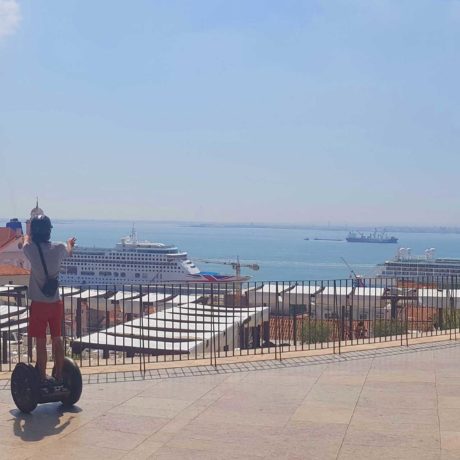 Frequently Asked Questions about Grand Lisbon Segway Tour
Why Grand Lisbon Segway Tour?
During the Grand Tour of Lisbon on Segway you will find the maximum of sights, encounter the best views and feel the local vibe.
What is the minimum age to drive a segway?
The minimal age is 9. But the minimal weight is 30 kg / 67 lbs. We do not suggest to go on 3h tour with underage 12 especially on summer time.
What is the maximum group size?
If you choose a group, the group size will not exceed 8 people. However, if you want to organize a private party or a corporate event, we can guide groups of up to 50 people at once. In this case, the group will be accompanied by several guides, approximately one guide per 8 participants.
Testimonials
Traveller: N B
Source:
Had a great Segway Experience with David in Lisbon. The tour was very informative and so much fun!! You get big value for your money here. I can highly recommend doing the tour.
Traveller: Samir Dalvie
Source:
An amazing experience. Our group was led on a fascinating tour by David ,whose attention to detail, perfect instruction as well as command on the local history made this a very interesting and exciting activity. All of us enjoyed the ride ,and I would highly recommend it to all tourists in Lisbon.
Traveller: Elaine Peacock
Source:
I had my first SEGWAY TOUR with David this morning. He is a wonderful teacher & tour guild. His knowledge of Lisbon made it a really pleasant hour. I can highly recommend EURO SEGWAY for their professionalism.
Traveller: Bhavesh Sharma
Source:
So me and my two mates booked a private 4hr city tour with David and what an epic experience it was. Non of us had ever been on a segway before and guided us through the dynamics and control of thr segway. Within 15mins we where confident to proceed onwards woth the tour. David customer service skills are brilliant, he's kind, informative and very patient. I highly recommend him and opt for thr full 4hrs package. Look forward to coming back. Top guy
Traveller: Peter Jordan
Source:
Perfect tour alongside the river! David is a very nice guide and an excellent teacher for beginners.
Traveller: Rocío de Lucía
Source:
David is a great guide, very nice and knowledgeable about the subject. He teaches you very well how to drive the Segway and he is very attentive at all times. The tour has been worth 100%. Excelente guía y forma de conocer Lisboa en una tarde con un gran anfitrión. David hace el recorrido fácil y muy agradable. Muy recomendable.
Traveller: GetYourGuide customer
Mexico
Source:
David is amazing. He was very kind and patient explains how to drive and at the tour he was always checking in. He takes time for pictures and explain all he knows about the city. Highly recommended.
Traveller: Cool Z
Source:
Great experience!
This is such a great way to see the city and our guide Igor was very knowledgable and told us lots is interesting facts as we went along. Highly recommend!
Load More