Overview
Discover the Highlights of the downtown Lisbon swiftly on wheels
Let's go for a quick ride through the charming streets of Lisbon and explore some of it's highlights downtown!
Starting off with a short practice to make you confident and ready to clear our path, we leave to visit the famous Commerce Square, from where most of the ships left to venture the world in the time of the navigational discoveries and exploration of the 1500's.
Smell the scent of history in the air as we glide next to the city hall, where you will get an insight into the history of the city – its tells and tales – and get in touch with its outdoor culture.
From here we climb to Chiado and make a small stop on Carmo Square to revisit the famous Carnation Revolution of 1974 – Lisbon's seven hills are always beautiful spots where you can find the most amazing views on the most unexpected of places: the perfect background for your photo opportunities.
As we climb down we still have time to visit the wide squares of Rossio, Martim Moniz e Fiqueira Square, each one with its own different charm – all of them bustling with commerce and restaurants – the perfect place to get connected with the daily life in Lisbon and to taste some local snacks or beverages.
Relax and enjoy this Segway tour in an atmosphere surrounded by local history and culture, effortlessly riding your Segway through the dark cobblestone streets and its typical Portuguese "calçada" of white limestone, the symbol of Lisbon aesthetics.
Included:
Live guiding
Safety training (extra time!)
Photo service
Headgears (all the sizes)
Raincoats if needed
Unlimited water, coffee and tea in the office
Excluded:
Gratuities (optional)
Food and drinks during the tour (optional)
The Most Popular tour
Free segway ride in a safe place
Make great pictures
Kids love it!
On The Highlights of Downtown you will see:
Commerce Square
Arch of Augusta Street
City Hall
Carmo Convent
Eiffel Lift
Chiado
Rossio main square
St. Domingos church
Martin Moniz square
Plaza Figueira
and more…
Map of this tour route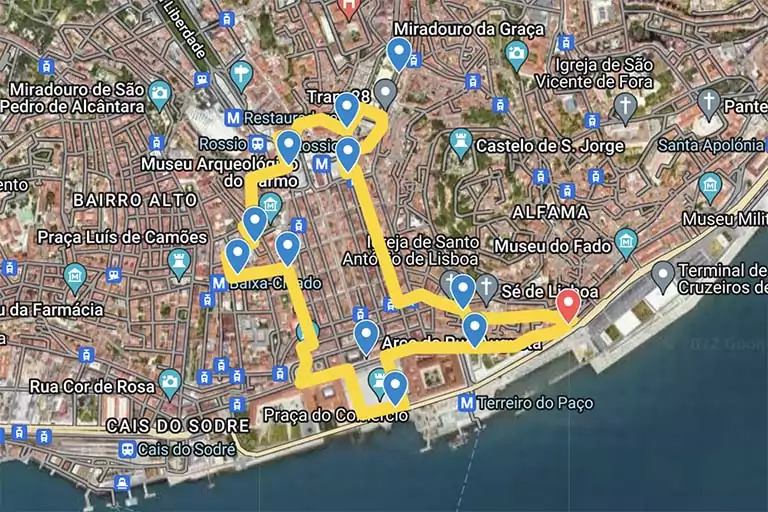 To load map, click on the image.
A driver's license is not required
Helmets are mandatory and different helmet sizes are offered
The minimum rider's weight is 30 kg, maximum weight is 150 kg; maximal speed is 18 km/h
The is no minimal age limit to drive a segway
Maximum age to participate in a tour – 69 years
Pregnant women and people with epilepsy are not allowed to ride a Segway
In case of rain, proper raincoats are provided free of charge and in cases of extreme weather your tour may be rescheduled or cancelled with a full refund for your safety
No deposit is required, you can pay in our office on the day of the tour. We trust our guests and hope that you will come on time. If you change your mind, let us know at least 48 hours in advance. This way you do not deprive others of the opportunity to take advantage of the available date.
If you have prepaid your tour, you must cancel at least 48 hours prior to the start of the tour to receive a full refund. For groups of 8 or more, cancellation policies are subject to change and will always be stated in the proforma invoice.
Frequently Asked Questions about The Highlights of the Downtown
What is the minimum age to drive a segway?
The minimal age is 9. But the minimal weight is 30 kg / 67 lbs.
Is this a guided tour?
Yes, this is a live guided tour.
What is the maximum group size?
If you choose a group, the group size will not exceed 8 people. However, if you want to organize a private party or a corporate event, we can guide groups of up to 50 people at once. In this case, the group will be accompanied by several guides, approximately one guide per 8 participants.
Why The Highlights of the Downtown?
60 minutes fun ride in the Lisbon's downtown will show you the main sights in the city center also as you will enjoy a segway ride.